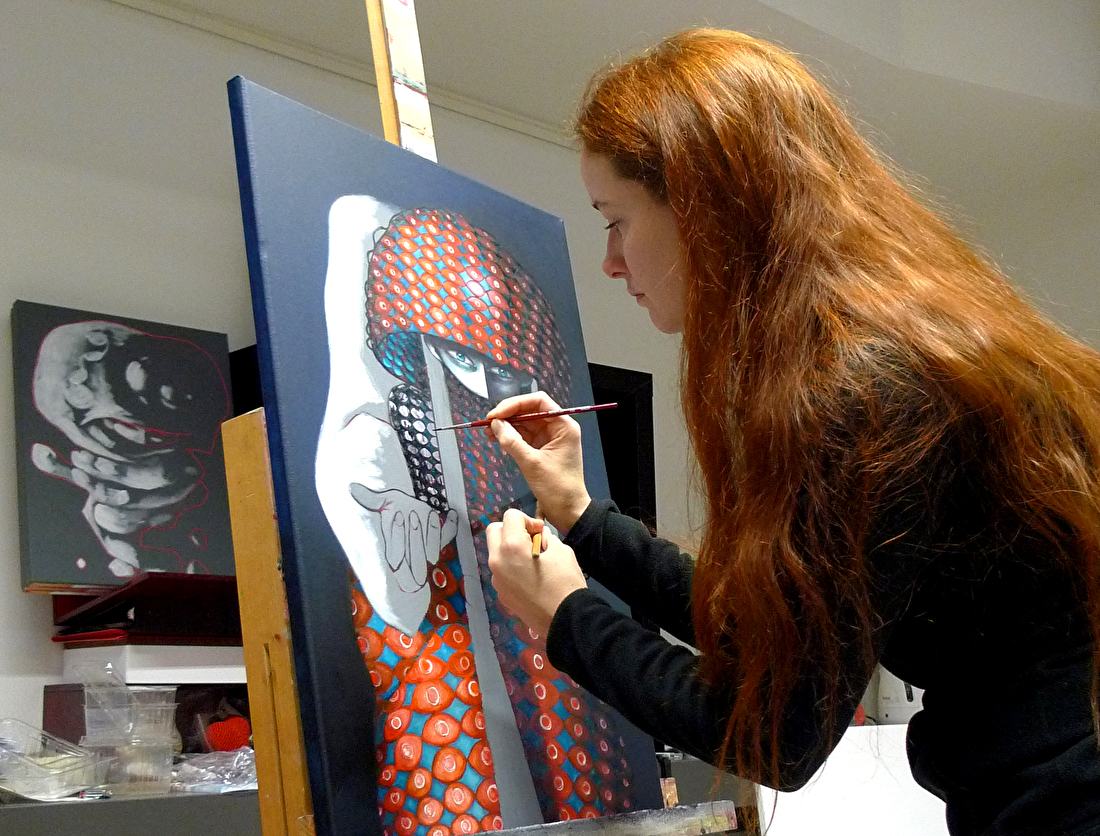 INTRODUCTION
My name is Lotte Teussink (1982) and I am a Dutch painter living in Rotterdam. I live in the center of the city, together with my partner and my twin daughters. I studied Fine Arts from 2001 to 2005 at the Willem de Kooning Academy in Rotterdam.

I love the dark side of things, and in my paintings I am looking for a sense of melancholy and solitude. My paintings are often inhabited with big eyed figures, gazing into the viewers eyes. They seem to be turned within themselves, thinking and wondering about things. They are grown ups, though with a childlike innocence and fear of the unknown.

INSPIRATIONS
Already as a young child, I had a fascination for fantasy & fiction, endlessly watching films like The Neverending Story and The Dark Chrystal. Later on, my interests got a bit darker and more psychological, reading Dostoyevski and similar authors, and watching horror and art house films. I guess now I am combining a childlike fantasy with a mature troublesome feeling, flavoured with a hint of gothic. In any case, imagination is my recipe.
Another important part of my working conditions is solitude and nature. Before my twin daughters were born in 2015 I used to enjoy art residencies once or twice a year. For a couple of months I would go to a secluded area where nature and the elements are. Here I could develop new ideas and create new paintings. I like autumn/winter, and I went to work in Finland, Denmark and Ireland. In the future I hope to visit Ireland again, as well as Norway and Iceland.

Music is also a source for my inspiration. Not only to listen to while working, but I also have a degree in classical music (flute). In 2012-2014 I have used this knowledge to create a couple of soundtracks to accompany my paintings. In my book 'Works 2012 - 2014' there is more information, including the lyrics. The tracks with the corresponding painting in a video can be found on VIMEO en SOUNDCLOUD.

ABOUT MY ARTWORKS
My artworks are a bold mix of pop surrealism, lowbrow, folk, and naieve art. Interweaved with a sense of melancholy, nostalgia, but also humour. Bright patterns, big eyes, and harmonious use of colours and balanced compositions are a definite trademark of mine.
Technically speaking, my paintings are made with mixed materials: oil paint is my main and beloved material, but I'm often using acrylic paint for transparently layering a background. There is a practical reason for that: it dries quicker than oil paint, which keeps me in the flow. Sometimes I use charcoal and ink, too.


ABOUT MY STUDIO
My studio is located in Rotterdam, which is a pretty weird space in the basement of a monumental 1950's building called the Groothandelsgebouw. This building is 7 storeys high and there are numerous offices in there, but my unit is solitary at the exit of a parking garage. It used to be a flower shop, and it has a wonderful half round 50's glass façade, a marble black and white tiled floor, and a 3.5 meter high ceiling. Fortunately, because I'm at the exit of the parking garage, I do get a little bit of daylight. It's not the perfect studiospace for a painter in terms of light, but it is certainly inspiring. Besides that, the geographical location is just perfect, and it's super easy to reach; right next to the central station of Rotterdam.